Printable Cupcake Toppers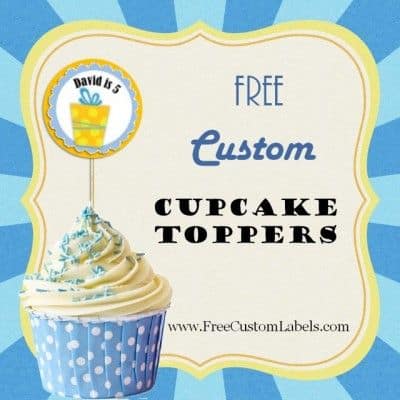 These birthday themed cupcake toppers can be used as-is or you can add your own text. For example, "David is 5", "Happy Birthday David", "Happy Anniversary", "Thanks for coming to my party". They can be used for a 40th birthday, 30th birthday, 50th birthday and of course for kids. You can type any text that you want! It only takes a few minutes to customize these printable toppers.
Click here to add your own text. You can add a different message on each cupcake topper!
Use these labels if you don't want to customize the toppers and you prefer to just print as-is.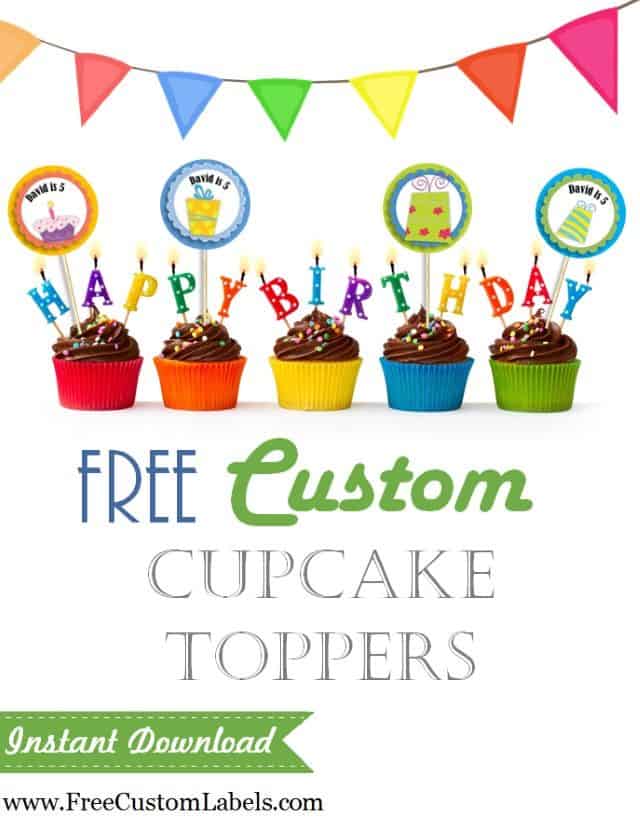 How to Make Cupcake Toppers
1) Decide if you want to customize the cupcake toppers or not. If you don't want to then just print the ready-made printable above (click on download). If you do want to then click on "customize". It only takes a few minutes to customize. Type in the text that you would like to appear.
2) There are 3 ways to cut out the labels: 1. Use a scalloped craft punch to cut out a scalloped shaped circle; 2. Use a circle craft punch to cut out a circle; 3. If you don't have a craft punch then just cut around each label with scissors.
3) Choose circle labels for the back of the cupcake. Print out a sheet of labels and cut out each one with a round craft punch or with scissors. If you have ready-made labels then you can use these too.
4) Using a hot glue gun put a bit of glue on the circular label.
5) Glue the stick.
6) Add a bit more glue if required and place the cupcake topper on top of the stick.
What can these cupcake toppers be used for?
Since the text can be customized they can be used for various purposes in addition to kids' birthday parties.
30th birthday cupcake toppers
40th birthday cupcake toppers
50th birthday cupcake toppers