Hot chocolate mason jar favors are so easy to make with this easy recipe and free printable custom gift tags.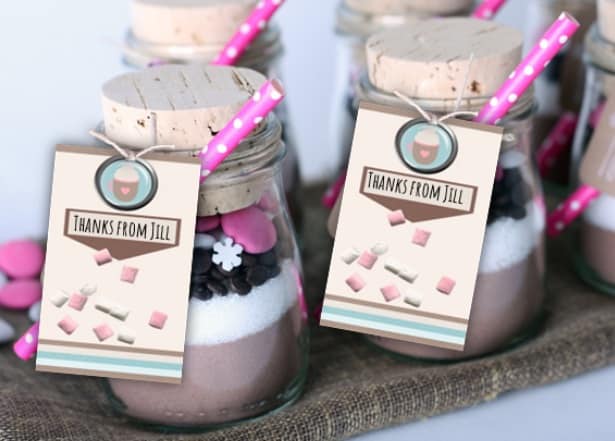 Hot chocolate mason jar gift
We offer two versions: hot cocoa and mocha (with coffee).  When making DIY wedding favors you might prefer to make mocha and when making party favors for kids the version without coffee will be more appropriate.
You can edit the printable gift tags. There are two designs available:
Recipes:
Hot chocolate in a mason jar recipe
1 part dry milk
1 part cocoa
1 part sugar
1 part chocolate chips
1 part marshmallows
Mocha in a mason jar recipe
1 part chocolate chips
1 part dry milk
1 part cocoa
1 part sugar
1/2 espresso powder
You can change the ratio if you prefer but keep the layers in this order or any other order that has dark then light then dark, etc.
You can also omit certain layers (such as the dry milk if you prefer to add fresh milk). If you do omit a layer try to arrange it so that you keep the contrast between the layers.
Hot cocoa in a jar gift tag
To make the hot chocolate mix labels open the label maker. To add text click on the A button. You can change the font and make the text larger or smaller. You can also drag it around.
Hot chocolate gift ideas
Use this hot cocoa gift tags printable to make party favors, gifts for teachers, DIY hot chocolate wedding favors or for any other purpose.
Since the text can be edited you can also use the label maker to make hot chocolate bar labels.