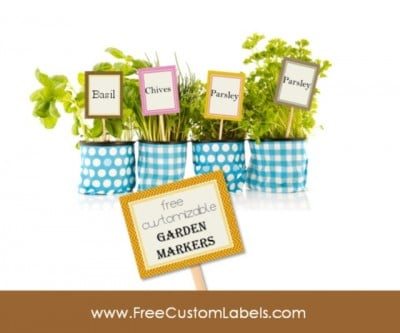 Free colorful garden markers that can be customized. Add color to your garden and never forget what's growing!
How to make garden markers?
Choose the design that you want to use from the 10 designs below.
Click to open the label maker.
Type your text.
Once you have cut out each printable label insert it into a laminating pouch and spread them out so that there is adequate space between each label. Cut around each label. We do not recommend inserting the entire printable sheet of labels into the laminating pouch and then cutting out each label. If you create them in this manner it will be easier for water to penetrate and ruin the label.
If you want to keep notes on the back of each label you can either write on the back of the label or create an additional label on which you can print your notes. Once you have cut out the back and front of the label then put them back to back and insert them into the laminating pouch. The front of the label will name the herb, fruit, vegetable or flower and the back will record any specific details that you need to remember when growing that particular plant.
Once you have laminated the labels cut each label out ensuring that you have a border around the label. This will ensure that the label is waterproof. You can also print the custom labels on waterproof label paper which will provide additional protection against moisture.
Adhere an ice cream stick or any other stick to the back of each label.
These gardening markers will not only remind you what is growing but will add color to any garden or plant box. They are particularly helpful when growing plants from seeds since you might find that you forget what you planted.