These free school book label templates can be personalized before you print them. Edit the text and add a photo (optional). You can add a different photo to each label.
Once you have customized the notebook labels, you can print them on sticker paper, label paper, labels or even on regular paper and apply with a glue stick.
You can make a sheet for each child but you can also use one sheet for a few children. The text on each label can be totally different.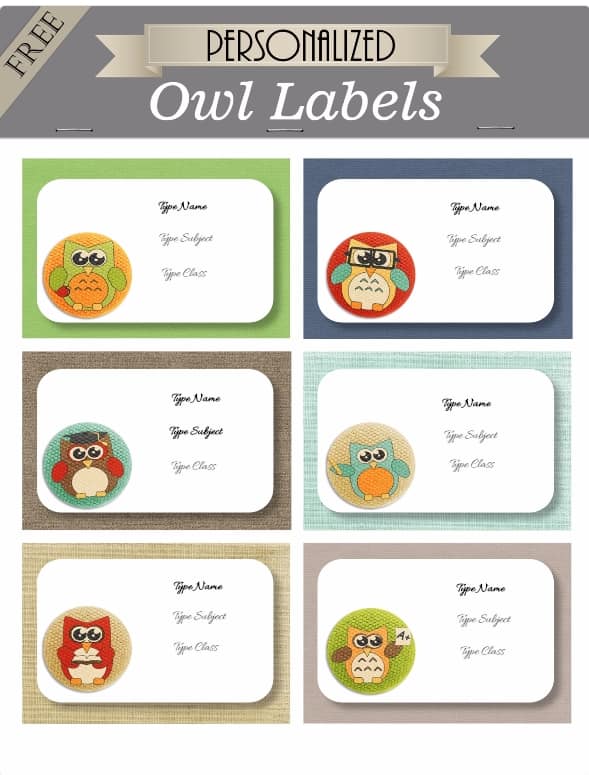 What can these custom labels be used for?
Since the text can be edited, they can be used for multiple purposes such as:
Stickers for school notebooks
Notebook labels (notebook name stickers)
School supply labels
School name labels
Visitor labels for schools
Name tags for the first day of school (to help teachers learn the students' names. Teachers can make one per student during back-to-school preparations so that they are ready for the first day of school)
Printable owl name tags (just delete the text that you don't need by clicking on the little x on the text box)
Owl address labels (add your address instead of the dummy text to create cute address labels)
Free printable school subject labels
Composition notebook label
School lunch notes
How to make labels for school supplies
Select the label template that you want to use from the selection above.
Print on label paper.
Adhere to your school supplies.
If you are using them on notebooks then you can print on regular paper and adhere with paper glue.